I've been living in Wellington 6 years and 3 months now, and this was my fourth visit to New Zealand's premier beer showcase and appreciation event, Beervana. This year it was back in the regional sports stadium, locally known the 'Cake Tin', as it was twice before when I attended. My only chance to see it at the attractive but confined Wellington Town Hall was in 2009, after which it moved to the stadium, or more specifically, the stadium concourse. I also attended the unrelated (I believe) New Zealand Beer Festival at the stadium in 2010. So I had a good idea what to expect when looking ahead to the Saturday morning session on this occasion, despite a recent change of management.[^n]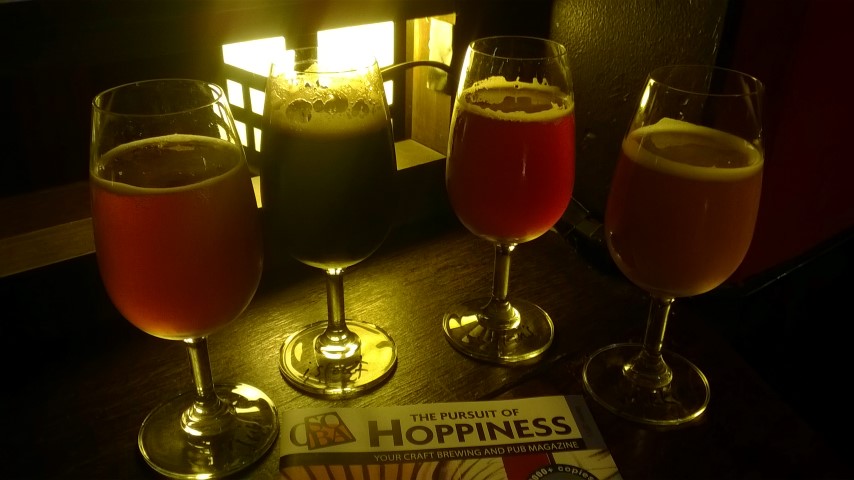 Selection of Ballast Point beers at Hashigo Zake's Road to Beervana event
The following is a very amateur breakdown of my thoughts on each of the beers I tried.
Beers sampled:
Garage Project - Cookies and Cream
Description: 6% 20 IBU - Brewed with Belgian yeast, dark caramalised malts and milk sugars. A rich, juicy dark malt and biscuit character with a hint of chocolate and a touch of spice.
Thoughts: An extra easy going beer, and so sexy looking with a thick, creamy head and chocolate dusting in the shape of a handlebar mustache. Subtle chocolate and spice creamy goodness. It could be very good from a hand-pump.
![Garage Project - Cookies and Cream](/content/images/2015/09/WP_20150815_003--Small-.jpg)
Garage Project - Cabbages and Kings
Description: 12% 38 IBU - An imperial oyster and hiropito stout brewed with Te Matuku Bay oysters. A rich and decadent brew.
Thoughts: Definitely for fans of Russian Imperial Porters. Very easy to drink for its percentage. Getting to try the beer before it was smoked with the smoking rod, I got a slight bitterness of oyster, but only slightly. After the smoke infusion, the phrase 'amazing nose blaster' came to mind. A shot in the schnozzle from every sip. An exciting and fun beer, and one we probably won't get to try again. I think the closest thing would be to get some honey, dip a news paper in it, set it on fire, and smoke it while drinking a RIP.
Good George Brewing - Salted Caramel Chocolate Porter
Description: 6% 26 IBU - A rich, full bodied porter with chocolate character from Donovans chocolate, a hint of caramel and a dash of salt.
Thoughts: I didn't get much salt or chocolate from this beer, and only some caramel flavours. I was a little disappointed after reading the description.
Good George Brewing - APA
Description: 6.2% 60 IBU - A grapefruit and pine aroma followed by resiney bitterness meeting soft, mouth-filled rye malt. This unfiltered beer finishes bitter yet full-bodied.
Thoughts: An extra strong APA aroma drove me to try this beer in between sweet dark beers. The taste was far more subtle than the aroma indicated. Refreshing for an APA with a nice after-taste. Very good beer.
Kereru Brewing Company - Imperial Nibs
Description: 8.5% - Cocoa nibs, vanilla and coconut. 8.5% of intense mellow maltiness.
Thoughts: Lots of chocolate. A heavy beer with a bitter finish after a sweet start. A lovely, strong chocolate aroma. A desserty beer for sweet tooths.
Funk Estate - Afrogato
Description: 8.0% 70 IBU - Cousin of Super Afrodisiac. Inspired by an Affogato, brewed with coffee, lactose, vanilla and almond. Very rich.
Thoughts: I'm a big fan of the Super Afrodisiac so I was especially looking forward to this one. I found it similar to the Kereru Nibs but with a big, hoppy kick. It has the same bitter after-taste with less chocolate and more coffee and liquorice flavours. I wasn't able to get much vanilla or almond.
Beavertown - Black Betty
Description: 7.4% 75 IBU - From Tottenham Hale, London, this beer is jet black but light and hoppy. Heavy-handed use of Columbus, Chinook and Citra, with some clever German malt.
Thoughts: Light and refreshing dark beer, not sour or bitter and lightly hoppy. I got a warming sensation on the finish. A very pleasant beer.
Mount Brewing Co. - Resin Head
Description: 6.0% 50 IBU - Brooding USA hops set this red ale apart. This beer will satisfy the most hop-loving "Resin Head".
Thoughts: Spicy, fruity, fresh with a good amount of bitterness which carries on on the finish. Good, but not amazing.
Lakeman Brewing Co. - The Big Hairy APA
Description: 6.2% 45 IBU - A blonde ale with stone fruit, grapefruit and mandarin flavours as big as Texas itself. Dry but sure to wet your whistle.
Thoughts: Lovely aroma, but after that, very uneventful. Definitely overshadowed by the more dramatic beers on the day.
Hallertau - Funkonnay
Description: 6.5% 8 IBU - This beer spends a year in Chardonnay barrels. Lean and fruity, peachy and very dry. Delicate, racy and moreish.
Thoughts: Sour! Not overly citrusy, eyes not scrunching, but lips doing a little pucker. Nice, pleasant. I could go for a full pint, which I wouldn't say about most sour beers, so maybe it's a bit tame for connoisseurs.
The Occasional Brewer - Manuka Smoked Stout
Description: 8.0% 70 IBU - Our occasional brewers have each produced their own twists on our imperial stout. This one is by Vincent Billett and Conor Paul.
Thoughts: Very smokey, very manuka'y. Not a subtle beer by any means. I felt like it had the exciting and over-the-top taste of a new beer brewed by people getting into the process, and hadn't been dampened by a process required for batch production. Enjoyable and exciting!
Tiamana - Alda Fritz
Description: 7.6% 28 IBU - German doppelbock. Strong malt base, herbal hop flavour, rich yet clean with notes of gooseberries and caramel.
Thoughts: A very good doppel, smooth, earthy with lots of caramel in the finish. So easy to drink for such a high percentage. It did lack carbonation, which might not have been a bad thing.
Tiamana - Meister Wald
Description: 3.7% - THE Berliner weisse. Brewed in original Schultheiss process and blended with sweet woodruff (Waldmeister). Tart, earthy and absolutely unique.
Thoughts: I was recommended this at the counter as the most popular Tiamana beer. A friend said it was 'almost a cider'. Very appley and citrusy but also very earthy which stopped the crispness and sweetness of a cider. This is an excellent light beer.
Wild And Woolly - Jamaican Toddy
Description: 6.3% 65 IBU - West India pale ale! New Zealand hops combine with the fiery aromatics of Jamaican jerk spices.
Thoughts: Spicy as heck, although at this point I had just finished deep-fried chicken, so that might have affected things. It definitely hits the back of your throat after. It reminded me of Garage Project's fantastic Day of the Dead, but is more of a straight-up IPA than a dark IPA.
Yeastie Boys - Dark Matta - PKB Remix 2015
Description: 7.5% 45 IBU - A black Earl Grey IPA. Dark and rich, yet fresh and hoppy, with our favourite Earl Grey Blue Flower for an extra kick!
Thoughts: My last beer of the day (at the event), which probably affected my note-taking. No aroma, and little flavour; just a heavy, warming dealy with a slightly bitter finish. Maybe a hint of green tea, but I can't tell if that's accurate or if I'm making it up as I know it's supposed to be there.
![Getting a hair-cut at the Mac's stand](/content/images/2015/09/WP_20150815_005--Small-.jpg)
Getting a hair-cut at the Mac's stand
Conclusion
The theme of the Media Brew Bar was "Flag Brews" with recipes designed to represent New Zealand, our flag, and what that stands for. However in my opinion, the stand-out style of the day was sour beers. There were so many to choose from ranging from eye-watering to mildly puckering. Not being the biggest fan myself, I preferred sampling from other people's glasses rather than try whole glasses myself, hence the lack of reviews here. But many visitors to Beervana will not have tried this style of beer before, and this was a great chance to sample several in the one day. The one beer I did really did enjoy was the Meister Wald, and because of this and the other beers of their's I tried, Tiamana were my brewer of the day.
All-in-all, this was another fantastic Beervana, and despite the cost (the five hour session (four hours pouring) came to NZD$45 + $80 in currency for beer and food), I would recommend it to beer lovers and beer unsures alike. What changes will come next year under the new management remain to be seen, but I'm already excited for next years taste bud tingling delights...
---